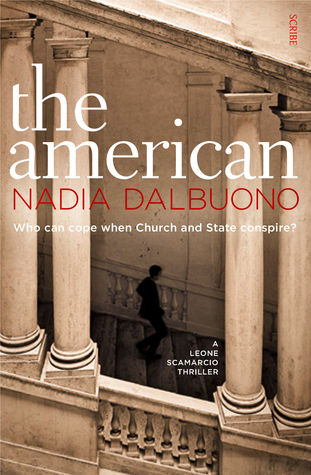 If you like your thrillers intricately crafted and pulling no punches, Nadia Dalbuono is definitely one writer you should be looking up right now. The Few—Dalbuono's debut novel—introduced us to Detective Leone Scamarcio and a style of hard-hitting writing that tackled some big ideas. Now, The American has risen the stakes.
A few months down the line from the action of the last book, Scamarcio is struggling to deal with some important moral decisions he's had to make, as he tries to live his life as a balancing act on both sides of the law. Piero Piocosta, his father's old lieutenant, has kept an eye on his old mafia boss' son, but the favours Scamarcio demands will not be granted without the debt being repaid.
Scamarcio needs to remove his underworld connections for the good of his career, but the problem is he needs them—particularly when he's given a new case that good send ripples through international intelligence agencies across the world and, by association, threaten Scamarcio's very existence.
An American is found hanging from the Ponte Sant'Angelo, just a stone's throw away from Vatican City. At first it appears to be your average suicide, but Scamarcio is troubled by similarities to the 1982 murder of Roberto Calvi, known as 'God's Banker' for his administration work for the Vatican. This isn't going to be a home-by-six kind of day for the Rome detectives.
Dalbuono goes big with the overarching ideas in this one, and as soon as Scamarcio begins to look deeper into what he believes are two interconnected murders, he is warned off by two Americans in suits: self-important government types.
Scamarcio is quickly thrown into a world of subterfuge that goes deeper than he could have ever imagined: the mafia, international governments, The Vatican. Answers are elusive, both for our detective and the reader, as Dalbuono dangles enough information at us to keep us enticed, but while keeping it suitably mysterious.
We learn a lot more about our protagonist in this book, as Scamarcio begins to realise that he must make an important decision about whether to honour the old values of his father and his mafia ties—and before its all too late. Clearly, people don't want him to continue with his investigations, as he is repeatedly warned not to tread on some very important toes. Scamarcio, however, is brave, and will do what he has to do to show the world the atrocities that are committed behind closed doors. Whether he can do so before they get to him, is another question entirely.
Although The American can be read as a standalone, it expertly fleshes out the characters we first go to know in Dalbuono's predecessor, and it is useful to read them in order. Both books are intelligent thrillers that combine the political with the police procedural expertly, discussing some big ideas in the process, and Dalbuono definitely has an exciting series on her hands.
The denoument from this latest instalment leaves many questions open for the wider character arc, and I for one am excited to see what Dalbuono has up her sleeve for our next Leone Scamarcio thriller.
—–
The American is out online and in all good bookstores right now.
As ever, my thanks to Molly Sight at @ScribeUKbooks for the ARC.