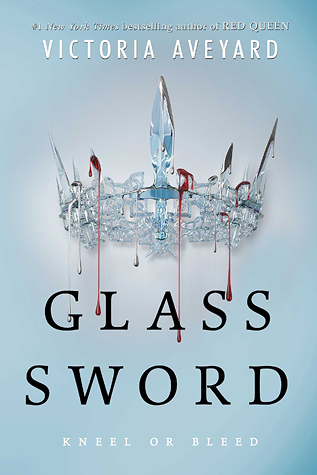 Rise, red as the dawn…
So here it is, the book hundreds of Victoria Aveyard fans have been waiting for since the explosive conclusion of its predecessor Red Queen—a Young Adult novel that really set the cat amongst the pigeons and had the critics full of praise. If anything, Glass Sword now sets the ceiling even higher than before.
Mare Barrow has fled the capital in stunning fashion, hurried away underground by the Scarlet Gard and reunited with her brother Shade—who she believed was dead. Cal, the exiled prince—believed to have murdered his own father the king—is a reluctant member of a group who burst back into life like they never left: Farley, as battle-scarred and tenacious as ever, is a particular well-crafted highlight throughout.
It doesn't take long before Mare realises that the Guard is much more than she ever imagined: better prepared, with bigger assets than the Silvers could ever expect; a well-oiled machine ready to cause chaos and bright the fight to King Maven, his sentinels, and, well, his army. As expected, Maven hunts the Guard—and indeed both Mare and Cal—with all his considerable resources and influence, leaving no stone unturned. Yet this is a war between more than just Silvers and Reds.
With Julian's list in hand, Mare goes with her new friends—but remember, "anyone can betray anyone"—to hunt the "newbloods", those people that are neither Silver or Red, just like Mare, and who contain powers and abilities far beyond those normally comprehensible. Indestructible humans; those with the ability to fly; young girls who can squeeze the life out from your body until you can no longer breathe and stare death in the face. You can tell Aveyard had fun letting loose with her imagination for this one.
Yet finding these newbloods—training this new "army" to fight Maven and his legions—is evidently not going to be a walk in the park: the new king has the list too, and for every member of the list they track down, there is an increasingly growing likelihood that the King's men have got there first. Their retribution, as ever, promises to be cold, calculating and ruthless.
Aveyard's biggest compliment should be the work she has done with Mare. Instead of your usual Young Adult fare, the character development with our chief protagonist is nicely done: after all, with prison breaks and firefights—not to mention the ability to cause lightening storms at will—you would expect her to change. After being forced to make some horrible moral choices, it seems Mare will finally succumb to the pressure heaped upon her shoulders. Or, at the very least, come of out it a different person—and not necessarily for the better.
To be fair to Aveyard, something about this sequel feels more ambitious than Red Queen. There's a more expansive feel to the second book, as we learn more about the world Aveyard has created, and get to go plunging around its darkest corners and exploring its depths. I got a Game of Thrones-esque feel as I was reading this one: each of our main characters gets their moment of glory, while we're introduced to a sweeping supporting cast of extras that also play their part.
Aveyard could have gone even further with this, and I'm almost certain she will do in the next book, but at just over 400 pages Glass Sword really does rattle breathlessly along. There's more twists and turns than a rollercoaster at a national theme park—and good grief, prepare to be bowled over by one of the best cliff-hanger endings I've ever had the pleasure of reading—bur I actually enjoyed the slow change in character and temperament for most of our main cast.
This is a solid follow-up from a writer that holds a large audience in the palm of her hand. I for one am excited to see what she has up her sleeves next.
—–
My thanks as ever to the wonderful Sophie Calder (@SophCalder) and Orion Books for the ARC.